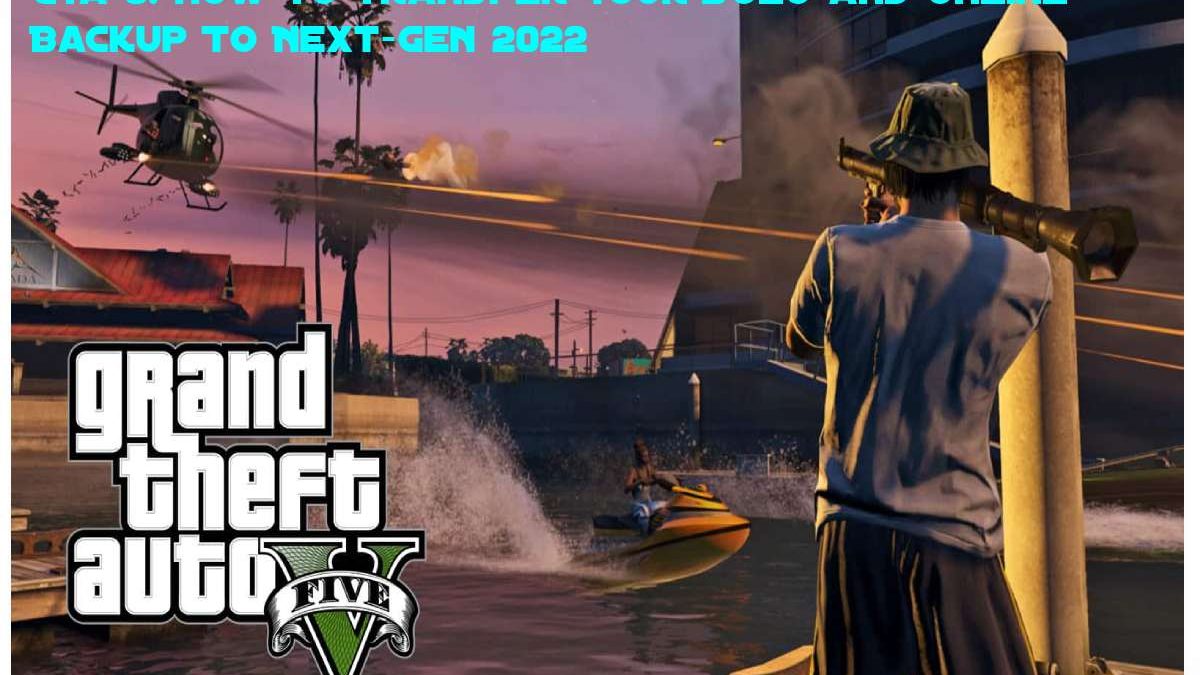 GTA 5 is out a second time on next-gen! After going through the ages, the must-have arrives on the latest console generation, offering players the opportunity to transfer their old save and online character. We will explain everything to you.
Departure time
GTA 5 and GTA Online next-gen
Transfer your backup
GTA Online free on PS5
Price and pre-order
In 2013, the Playstation 3 was experiencing its last moments of glory, and the Xbox 360 marked the end of its success story that brought it to the level of its competitor at Sony.
GTA 5 was then released, winning all records and prizes, quickly becoming one of the best-selling games behind the Minecraft phenomenon.
Nine years and 160 million sales later, Rockstar's star title is given a new life with two new versions dedicated to next-gen consoles, PS5 and Xbox Series X|S. A port that results in new purchase and a backup transfer for those who wish. We explain how to do it.
How To Transfer Your GTA 5 and GTA Online Backup?
If you've ever spent long hours on the streets of Los Santos on your PS4 or Xbox One, and want to buy one of the next-gen versions of GTA 5, know that you have the opportunity to transfer your character from one console generation to another.
These transfers concern both the story and online modes and are unique. Therefore, it will be possible to transfer a backup of the single-player Mode and a backup of the Online Mode to your next-generation console. These transfers are only possible between consoles of the same manufacturer, PS4 to PS5 and Xbox One to Xbox Series. Here is the transfer method as described by Rockstar:
History:
Upload your save from your old console to the Rockstar Social Club: Go to your game on your PS4 or Xbox One, then to the Game tab of the pause menu. There you will find the option "Download Game Save". Your backup will then be transmitted to your Rockstar Social Club account and remain there for 90 days. When you sign in to your account from your new console (PS5 or Xbox Series), you will be able to recover your backup.
Online:
There is no need for careful manipulation for GTA Online; log in to your Rockstar Games Social Club profile on your new console and enjoy your character as you left it on your old-gen console.
What Are The Next-Gen Versions Of GTA 5 and GTA Online
As we told you in the introduction, the period that the world of console video games is going through is quite complex, stuck between an older generation of consoles and a new generation that is difficult to find in stores.
As a result, the transition between the "old-gen" and the "next-gen" is longer than expected, hence the multiplication of "cross-gen" game releases, available on both PS4 and PS5, for example. However, the Xbox Series X and PS5 offer much higher performance than their predecessors, benefiting from Ray-Tracing and SSD storage technologies. Therefore, it is pretty normal for popular titles like GTA 5 to focus on the new generation of consoles.
For the consumer, this porting usually translates in two ways. First, a free upgrade to the next-gen version for all players owning the game on the older generation of consoles. Secondly, the release of games is entirely different from the old titles, integrating the new consoles' new technical features and selling separately. And when it comes to GTA 5, Rockstar is moving towards the second option. To enjoy these new versions of the game, offering textures in 4K, Ray-Tracing and 60 fps, it will be necessary to repurchase the game in its Xbox Series X|S or PS5 version. A piece of news challenging to swallow for some of the players.
GTA Online is Accessible on PS5 for Three Months
That's one of the good news surrounding the release of GTA 5 on next-gen consoles: online Mode is available separately from the entire game on PS5 and Xbox Series stores at a discounted price. Count 19,99 € for the online Mode against 39,99 € for the whole of the game (story + Online Mode). In addition, PS5 players can enjoy three months during which GTA Online is completely free to download, allowing them to experience the ever-changing world of Los Santos in multiplayer fully. At the end of these three months, players will be able to keep their Online version at no additional cost.
The situation is more complex when it comes to Xbox Series X gamers.
If they want to access online Mode, they have to settle for the purchase of the new next-gen version of GTA V for €39.99 that will offer them de facto access to online Mode, or they have to buy online Mode separately on the Xbox Store, like the online Mode of Red Dead Redemption 2.
The online Mode is offered at € 19.99, reduced to € 9.99 at the time of the game's launch, thanks to big promotions provided by Take-Two Interactive to celebrate this next-gen launch.
Price and re-order
The pricing of this new release can, however, be perplexing. Between a full next-gen version, an online mode available individually and for free for three months but only on Playstation 5, there is enough to take the cabbage. We have deciphered the different events and prices surrounding the release of GTA 5 on next-generation consoles on March 15th. Attention the eyes, there is a lot of information and promotions of all kinds:
PS5
GTA V (story + online): €39.99, discount to €9.99 on launch day
Online Mode: €19.99, value to €0.00 for three months after launch
Xbox Series X
GTA V (story + online): €39.99, discount to €19.99 on launch day.