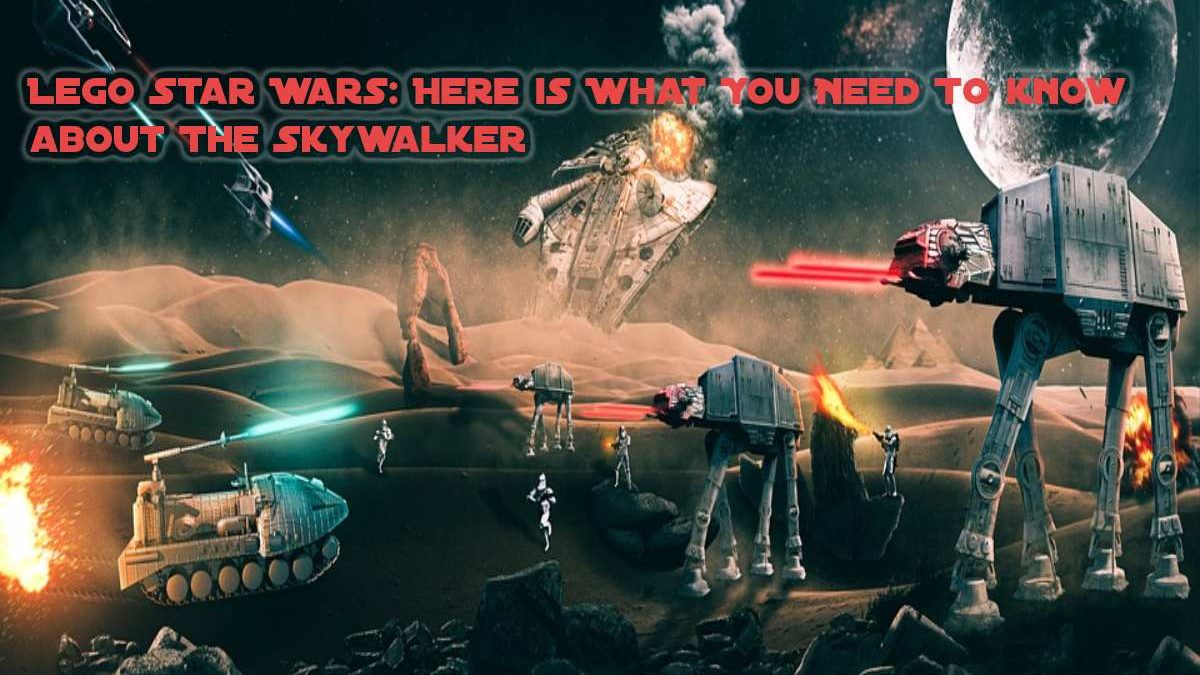 The biggest sci-fi saga is back The Skywalker.
Star Wars offers a complete adaptation of the Lego universe in the most ambitious project of the veteran studio TT Games to date.
Lego Star Wars: The Skywalker Saga has been available since Tuesday; here are five things not to be missed.
SUMMARY
Lego Star Wars: The Skywalker Saga
What's new
Co-op mode
DLC
Platforms
The love story between Lego and video games began a long time ago, in a galaxy far away. It was 2005, and Lego Star Wars 1 and 2 arrived on the market, greeted by thunderous applause.
The adaptation of George Lucas' films to the plastic brick sauce was immediately a great success, paving the way for many other adaptations from the studio of its developer TT Games.
Since then, water has flowed under the bridges.
The British developer returns once again to the universe of Star Wars with a more than an ambitious project, Lego Star Wars:
The Skywalker Saga, or the Lego adaptation of nine films of the famous franchise. Here's everything you need to know about it.
What is Lego Star Wars: The Skywalker Saga
Lego video games have always been based on a relatively simple principle: to make us relive the best scenes of movies, characters, or pop culture series, all in a universe entirely built of tiny plastic bricks.
And in this exercise, TT Games is more than the veteran; already at the helm of the first two Lego games ever released, Lego Star Wars I and Lego Star Wars II.
And for seventeen years, TT Games has been the origin of all Lego games. Indiana Jones, Jurassic Park, Harry Potter, The Lord of the Rings…
The British studio has recreated all the most prominent franchises, which can boast of presenting more than thirty Lego video games to its credit.
The Skywalker Saga will allow us to relive the three Star Wars trilogies, from the muscular learning of Obi-Wan to the advent of the First Order, and this in the order you want.
What's new in Lego Star Wars: The Skywalker Saga
In terms of gameplay, the game offers you the opportunity to go through the story of each movie in the order you want, without any particular constraints.
You will also have the chance to replay each level with new characters, unlock new parts of the story and find collectable items.
If you were worried about not being able to play one of your favourite characters in the Skywalker Saga, you couldn't go wrong any further.
TT Games
has also added elements to satisfy a slightly more adult audience with a controller in hand. Characters armed with blasters can now hide and shoot undercover.
At the same time, lightsaber combat is done through different combos, feints and powers, bringing a little more diversity into the ultimately relatively simple gameplay of the Lego games formula.
We also find in this new release graphics that have never been so beautiful in a Lego game; the environment reacts to the player's actions, both in terms of light and matter effects.
In addition, TT Games has decided to give the player a little more freedom by providing him with hubs that he can explore freely between each story mission.
At best, we move away from the level-by-level formula to allow the player to move from planet to planet as he pleases via a Galaxy map to explore or re-explore levels he has already travelled to solve puzzles and complete side quests or search for objects.
A co-op mode in Lego Star Wars: The Saga Skywalker Saga
Lego games have always been a strong advocate of two-player co-op play. Traditionally, this cooperation is done through the traditional split-screen, and The Skywalker Saga will be no exception.
Concretely, if you can share a piece of sofa with a friend or a member of your family, it is perfect; on the other hand, it is impossible to connect to the same game from two different places, since no online multiplayer mode is planned for the game currently on any platform.
Post-launch Content for Lego Star Wars:
Those who already have their eyes fixed on the future of this more than imminent release know that TT Games and Warner Bros Games have already planned to provide at least seven-character packs after the release of Lego Star Wars:
The Skywalker Saga.
You can find iconic characters from the Star Wars extended universe, including those from recent Disney+ series like The Mandalorian, spin-offs like Rogue One, Solo: A Star Wars Story and more. So we repeat, it is more than likely that you will find your favourite character in this funny adventure!
On Which Platforms Does Lego Star Wars: The Skywalker Saga Release?
Let's start with essential information, Lego Star Wars: The Skywalker Saga has been available on our gaming platforms since Tuesday, March, 2022.
Of course, this consumer game is available on all the biggest video game platforms, Xbox Series X|S, Xbox One, PS4, PS5, PC and Nintendo Switch.
Recommended to an audience of 7 years and over, it still offers an experience that will delight young and old, especially fans of George Lucas's universe. We will not hide it.